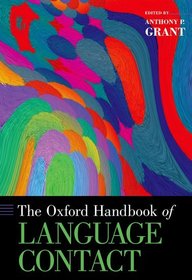 The Oxford Handbook of Language Contact
Date of Publication:
20 February 2020
---
Publisher's listprice:
GBP 125.00
Estimated price in HUF:
52 500
HUF (50 000
HUF
+ 5% VAT)
Why estimated?
---
42 000 (40 000 HUF + 5% VAT )
discount is: 20% (approx 10 500 HUF off)
Discount is valid until: 31 December 2020
---
---
ISBN13:

9780199945092

ISBN10:
0199945098
Binding:
Hardback
No. of pages:

806

pages
Size:
255x181x48 mm
Weight:
1494 g
Language:

English

740
Category:
Short description:
The Oxford Handbook of Language Contact examines the ways in which speakers of one language can exert influence on another language, and the ways in which we can assess this influence. It draws on data from dozens of languages from across the globe, and examines the contact histories of twenty such situations (including American Sign Language) in detail. It is the most up-to-date book on this topic in the science of language.
Long description:
Every language has been influenced in some way by other languages. In many cases, this influence is reflected in words which have been absorbed from other languages as the names for newer items or ideas, such as perestroika, manga, or intifada (from Russian, Japanese, and Arabic respectively). In other cases, the influence of other languages goes deeper, and includes the addition of new sounds, grammatical forms, and idioms to the pre-existing language. For
example, English's structure has been shaped in such a way by the effects of Norse, French, Latin, and Celtic?though English is not alone in its openness to these influences. Any features can potentially be transferred from one language to another if the sociolinguistic and structural circumstances allow
for it. Further, new languages?pidgins, creoles, and mixed languages?can come into being as the result of language contact.

In thirty-three chapters, The Oxford Handbook of Language Contact examines the various forms of contact-induced linguistic change and the levels of language which have provided instances of these influences. In addition, it provides accounts of how language contact has affected some twenty languages, spoken and signed, from all parts of the world. Chapters are written by experts and native-speakers from years of research and fieldwork. Ultimately, this Handbook provides an
authoritative account of the possibilities and products of contact-induced linguistic change.

this sizable handbook is a welcome addition ... would make excellent readings for courses in language contact and/or historical linguistics.
Table of Contents:
Chapter 1 Introduction and conspectus: What is language contact or CILC?: Anthony P. Grant, Edge Hill University.
Part 1: Language Contact and Linguistic Theory
Chapter 2 Theories of language contact: Donald Winford, Ohio State University
Chapter 3 Phonetics, phonology and CILC: Thomas Klein, late, Georgia Southern University, E-Ching Ng, Yale University, and Anthony Grant, Edge Hill University
Chapter 4 Morphology and CILC: Francesco Gardani, Universität Zürich.
Chapter 5 Syntax and CILC: Malcolm Ross, Australian National University.
Chapter 6 Semantics and CILC: Brian Mott and Natalia Laso, Universidat de Barcelona
Chapter 7 Sociolinguistic, sociological and sociocultural approaches to CILC: Graham Thurgood, CSU-Chico
Chapter 8 The role of code-mixing and code-switching in CILC: Ad Backus, U of Tilburg
Chapter 9 First and second language acquisition and CILC: Eva Eppler and Gabriel Ozón, U of Roehampton and U of Sheffield
Chapter 10 CILC and endangered languages: analysis and documentation: Alexandra Aikhenvald, James Cook University
Chapter 11 Pidgins: Mikael Parkvall, University of Stockholm
Chapter 12 Creoles: John McWhorter, Columbia University
Chapter 13 Mixed languages: Norval Smith, University of Vienna, and Anthony Grant, Edge Hill University
Part 2: Language Contact in Several Languages
Chapter 14 Irish: Raymond Hickey, University of Duisburg-Essen
Chapter 15 Welsh: Clive Grey, Edge Hill University (retired)
Chapter 16 English: Joan Beal, Emerita, University of Sheffield, and Mark Faulkner, Trinity College Dublin.
Chapter 17 Spanish: Miriam Bouzouita, University of Ghent
Chapter 18 Tagdal: Carlos M. Benítez-Torres, Payap University, Chiang Mai, Thailand
Chapter 19 Goemai: Birgit Hellwig. La Trobe University
Chapter 20 Berber: Lameen Souag, CNRS-LACITO, Paris
Chapter 21 Ossetic: Oleg Belyaev, Lomonosov State University Moscow
Chapter 22 Neo-Aramaic: Eleanor Coghill, University of Uppsala
Chapter 23 Malayalam: P. Sreekumar, Dravidian University
Chapter 24 Korean: Ho-min Sohn, University of Hawai'i at Manoa
Chapter 25 Khmer: John Haiman, Macalester College
Chapter 26 Warlpiri and Light Warlpiri: Carmel O'Shannessy, University of Michigan
Chapter 27 Tok Pisin: Adam Blaxter Paliwala, University of Sydney.
Chapter 28 Reef Island languages, Ashild Nass, University of Oslo
Chapter 29 Eskimo/Aleut: Anna Berge, University of Alaska-Fairbanks.
Chapter 30 Lower Mississippi as a linguistic area: David Kaufman, independent scholar
Chapter 31 American Sign Language: David Quinto-Pozos and Robert Adam, Gallaudet University
Chapter 32 Guaraní: Jorge Gomez-Rendón, University of Amsterdam
Chapter 33 Cape Verdean Creole, Marlyse Baptista, University of Michigan