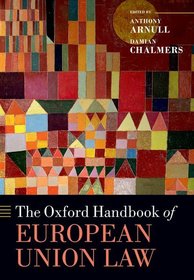 The Oxford Handbook of European Union Law
Date of Publication:
25 May 2017
---
Publisher's listprice:
GBP 39.95
Estimated price in HUF:
16 485
HUF (15 700
HUF
+ 5% VAT)
Why estimated?
---
14 837 (14 130 HUF + 5% VAT )
discount is: 10% (approx 1 649 HUF off)
---
---
ISBN13:

9780199672653

ISBN10:
0199672652
Binding:
Paperback
No. of pages:

1072

pages
Size:
247x171x55 mm
Weight:
1808 g
Language:

English

2415
Category:
Short description:
Beset by disagreement and challenges to its legitimacy and effectiveness, the European Union could be said to be at a crisis point. The debates are myriad and complex, the literature vast and conflicting. This Oxford Handbook provides an invaluable guide to understanding the critical debates in the field, pointing the direction for future research.
Long description:
Since its formation, the European Union has expanded beyond all expectations; this seems set to continue as more countries seek accession and the scope of EU law expands, touching more and more aspects of its citizens' lives. The EU has never been stronger and yet it now appears to be reaching a crisis point, beset on all sides by conflict and challenges to its legitimacy. Nationalist sentiment is on the rise and the Eurozone crisis has had a deep and lasting impact.
The European Union has the complexity and depth of a mature legal system, albeit one which is constantly in flux and whose content and foundations are constantly contested. Its law has developed beyond the single market and institutional matters into many other fields including environmental, fiscal, labour, immigration and criminal law. It is studied at undergraduate and postgraduate level throughout the Member States and beyond; an understanding of it is essential to those who study the EU
from other disciplinary perspectives as well as to legal practitioners and policy-makers.
The Oxford Handbook of European Union Law comprises eight sections examining how we are to conceptualise EU law; the architecture of EU law; making and administering EU law; the economic constitution and the citizen; regulation of the market place; economic, monetary and fiscal union; the Area of Freedom, Security and Justice; and what lies beyond the regulatory state. Each chapter summarises, analyses and reflects on the state of play in a given area, and suggests how it is likely to
develop in the foreseeable future. The resulting collection provides a vivid and provocative tapestry which will be widely used both inside and outside academia by those who are interested in the law underpinning the EU and its policies.
Table of Contents:
Part I: Conceptualizing EU Law
The Philosophy of European Union Law
Legal Reasoning in EU Law
Straddling the Fence: The EU and International Law
Part II: The Architecture of EU Law
EU Competences: Existence and Exercise
Legal Acts and Hierarchy of Norms in EU Law
Accession and Withdrawal in the Law of the European Union
The Court of Justice of the European Union
Primacy and the National Reception
Direct Effect, Effective Judicial Protection, and State Liability
Human Rights in the EU
Common External Policies: Common Commercial Policy, Common Foreign and Security Policy, Common Security and Defence Policy
Part III: Making and Administering EU Law
The Democratic Ambiguity of EU Law-Making and its Enemies
Comitology
The Evolution of Infringement and Sanction Procedures: Of Pilots, Diversions, Collisions, and Circling
Judicial Review in the European Union
Dialogue with National Courts
Accountability and Representation in EU Law
Part IV: The Economic Constitution and the Citizen
The Free Movement of Workers in the 21st Century
The Developing Legal Dimensions of Union Citizenship
Goods
Establishment
The Law on the Free Movement of Services: Powerful, but not always Persuasive
Part V: Regulation of the Market Place
The Complex Weave of Harmonization
Competition and Merger Law and Policy
Competition Law Enforcement
An Evolutionary Theory of State Aid Control
EU Intellectual Property: Exercises in Harmonization
Part VI: Economic, Fiscal, and Monetary Union
The Metamorphosis of European Economic and Monetary Union
Financial Markets Regulation
Death, Taxes, and (Targeted) Judicial Dynamism: The Free Movement of Capital in EU Law
Direct Taxation and the Fundamental Freedoms
Part VII: The Area of Freedom, Security, and Justice
EU Criminal Law under the Area of Freedom, Security, and Justice
EU Migration and Asylum Law under the Area of Freedom, Security, and Justice
The Harmonization of Civil Jurisdiction
Part VIII: Beyond the Regulatory State?
Pursuing Equality in the EU
The EU and National Systems of Labour Law
Welfare Policy and Social Inclusion
Experts and Publics in EU Environmental Law