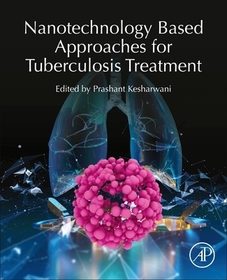 Nanotechnology Based Approaches for Tuberculosis Treatment
Publisher:
Academic Press
Date of Publication:
11 June 2020
---
Publisher's listprice:
EUR 175.00
Estimated price in HUF:
66 150
HUF (63 000
HUF
+ 5% VAT)
Why estimated?
---
59 535 (56 700 HUF + 5% VAT )
discount is: 10% (approx 6 615 HUF off)
---
---
ISBN13:

9780128198117

ISBN10:
0128198117
Binding:
Paperback
No. of pages:

284

pages
Size:
235x191 mm
Weight:
670 g
Language:

English

686
Category:
Long description:
Nanotechnology Based Approaches for Tuberculosis Treatment discusses multiple nanotechnology-based approaches that may help overcome persisting limitations of conventional and traditional treatments. The book summarizes the types of nano drugs, their synthesis, formulation, characterization and applications, along with the most important administration routes. It also explores recent advances and achievements regarding therapeutic efficacy and provides possible future applications in this field. It will be a useful resource for investigators, pharmaceutical researchers, innovators and scientists working on technology advancements in the areas of targeted therapies, nano scale imaging systems, and diagnostic modalities in tuberculosis.
Addresses the gap between nanomedicine late discovery and early development of tuberculosis therapeutics
Explores tuberculosis nanomedicine standardization and characterization with newly developed treatment, diagnostic and treatment monitoring modalities
Covers the field thoroughly, from the pathogenesis of tuberculosis and multi-drug resistant mycobacterium tuberculosis, to treatment approaches using nanotechnology and different nanocarriers
Table of Contents:
1. Pathogenesis, biology, and immunology of tuberculosis
RAVI BANDARU, DEVIPRASAD SAHOO, RAMAKANTA NAIK, PRASHANT KESHARWANI AND RAMBABU DANDELA
2. Tuberculosis: introduction, drug regimens, and multidrug-resistance
SIMA SINGH, NEELAM DHANKAR, ASHISH KUMAR GARG AND PRASHANT KESHARWANI
3. Nanotechnology as a potential tool against drug- and multidrug-resistant tuberculosis
DAMIÁN EDUARDO PÉREZ-MARTÍNEZ AND ROBERTO ZENTENO-CUEVAS
4. Translational research for therapy against tuberculosis
YOLANDA GONZALEZ, SILVIA GUZMÁN-BELTRÁN, LAURA E. CARRETO-BINAGHI AND ESMERALDA JUÁREZ
5. Vaccine delivery systems against tuberculosis
RUPAL OJHA, RAJAN KUMAR PANDEY AND VIJAY KUMAR PRAJAPATI
6. Inhalable polymeric dry powders for antituberculosis drug delivery
SUNEERA ADLAKHA, KALPESH VAGHASIYA, ANKUR SHARMA, EUPA RAY AND RAHUL KUMAR VERMA
7. Liposomes-and niosomes-based drug delivery systems for tuberculosis treatment
ALI IBRAHIM BEKRAKI
8. Polymer-based nanoparticles as delivery systems for treatment and vaccination of tuberculosis
MOHSEN TAFAGHODI, FARZAD KHADEMI, FARIDEH SHIEHZADEH AND ZOHREH FIROZI
9. Nanotechnology-based approaches for tuberculosis treatment
MOHAMAD MOSA MUBARAK AND ZAHOOR AHMAD
10. Dendrimer-based drug delivery systems for tuberculosis treatment
RAHUL SHUKLA, AAKRITI SETHI, MAYANK HANDA, MRADUL MOHAN, PRASHANT KESHARWANI AND PUSHPENDRA K. TRIPATHI
11. Polymeric micelle-based drug delivery systems for tuberculosis treatment
BAPI GORAIN, HIRA CHOUDHURY, SREENIVAS PATRO AND PRASHANT KESHARWANI
12. Nanostructured lipid carrier-based drug delivery systems for tuberculosis treatment
SIMONE PINTO CARNEIRO AND ORLANDO DAVID HENRIQUE DOS SANTOS
13. DNA markers and nano-biosensing approaches for tuberculosis diagnosis
AMAL RABTI, AMAL RAOUAFI AND NOUREDDINE RAOUAFI
14. Recent advancement and future perspective for the treatment of multidrug-resistant tuberculosis
Noorsuzana Mohd Shariff
15. Nanotechnology approach in conquering anti-TB resistance
B.D. NOVITA