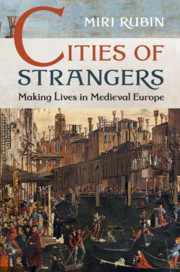 Cities of Strangers
Making Lives in Medieval Europe
Publisher:
Cambridge University Press
Date of Publication:
19 March 2020
---
Publisher's listprice:
GBP 18.99
---
7 339 (6 989 HUF + 5% VAT )
discount is: 10% (approx 816 HUF off)
---
---
ISBN13:

9781108740531

ISBN10:
1108740537
Binding:
Paperback
No. of pages:

204

pages
Size:
228x152x12 mm
Weight:
310 g
Language:

English

Illustrations:
5 b/w illus. 2 maps
723
Category:
Short description:
Explores how medieval towns and cities received newcomers, and the process by which these 'strangers' became 'neighbours' between 1000 and 1500.
Long description:
Cities of Strangers illuminates life in European towns and cities as it was for the settled, and for the 'strangers' or newcomers who joined them between 1000 and 1500. Some city-states enjoyed considerable autonomy which allowed them to legislate on how newcomers might settle and become citizens in support of a common good. Such communities invited bankers, merchants, physicians, notaries and judges to settle and help produce good urban living. Dynastic rulers also shaped immigration, often inviting groups from afar to settle and help their cities flourish. All cities accommodated a great deal of difference - of language, religion, occupation - in shared spaces, regulated by law. But when, from around 1350, plague began regularly to occur within European cities, this benign cycle began to break down. High mortality rates led eventually to demographic crises and, as a result, less tolerant and more authoritarian attitudes emerged, resulting in violent expulsions of even long-settled groups. Tracing the development of urban institutions and using a wide range of sources from across Europe, Miri Rubin recreates a complex picture of urban life for settled and migrant communities over the course of five centuries and offers an innovative vantage point on Europe's past with insights for its present.

'In Cities of Strangers, Miri Rubin takes us deep into the practices of inclusion and exclusion in medieval cities across Europe. Introducing us to the variety of newcomers who sustained urban life, she also shows us how long-domiciled groups of Jews and even native-born women were marked by the taint of strangeness.&&&160;Her compelling narrative reminds us how needy are the migrants at our gates and how universal is our quest to belong.' Natalie Zemon Davis, University of Toronto
Table of Contents:
1. Cities and their strangers; 2. Strangers into neighbours; 3. Jews: familiar strangers; 4. Women: sometimes strangers in their cities; Conclusion.