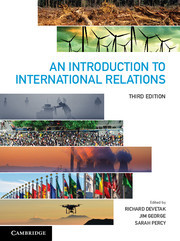 An Introduction to International Relations
Publisher:
Cambridge University Press
Date of Publication:
11 September 2017
---
Publisher's listprice:
GBP 50.99
Estimated price in HUF:
23 396
HUF (22 282
HUF
+ 5% VAT)
Why estimated?
---
21 056 (20 054 HUF + 5% VAT )
discount is: 10% (approx 2 340 HUF off)
---
---
ISBN13:

9781316631553

ISBN10:
1316631559
Binding:
Paperback
No. of pages:

620

pages
Size:
255x190x25 mm
Weight:
1300 g
Language:

English

Illustrations:
6 colour illus. 27 maps 10 tables
661
Category:
Short description:
An Introduction to International Relations is an indispensable guide for readers approaching international relations for the first time.
Long description:
An Introduction to International Relations is a comprehensive introduction to the history, theories, developments and debates that shape the dynamic discipline of international relations and contemporary world politics. Bringing together an expert author team comprising leading academics from Australia and around the world, it allows readers to explore the discipline from both Australian and global perspectives. Known for its clear, easy-to-read style and relevant, real-world examples, the text has been fully updated and revised to reflect current research and the changing global political climate. This edition features extensive new material on: international history from World War I to World War II; international law; the globalisation of international society; and terrorism. A companion website for instructors offers additional case studies, critical thinking questions and links to relevant video and web materials that bring international relations theory to life.
Table of Contents:
Introduction: The origins and changing agendas of international relations Richard Devetak; Part I. Theories of International Relations: 1. International relations theory in an era of critical diversity Jim George; 2. Liberalism Jim Richardson; 3. Realism Michele Chiaruzzi; 4. Marxism and critical theory Richard Devetak, Jim George and Martin Weber; 5. Feminism Katrina Lee Koo; 6. Postmodernism Roland Bleiker; 7. Constructivism Patrick Thaddeus Jackson and Joshua S. Jones; 8. Theories of global justice Richard Shapcott; Part II. International History: 9. From the Great War to the Second World War Louise Fawcett; 10. The Cold War and after Nick Bisley; Part III. The Traditional Agenda: States, War and Law: 11. The modern state and its origins Richard Devetak; 12. Nations and nationalism Gavin Mount; 13. Security Anthony Burke; 14. Arms control Marianne Hanson; 15. The causes of war Hidemi Suganami; 16. The changing character of warfare Robert Ayson; 17. The ethics and laws of war Alex J. Bellamy; 18. International law Sarah Percy; 19. The globalisation of international society Shogo Suzuki; 20. Diplomacy Paul Sharp and Geoffrey Wiseman; 21. Great powers Marco Cesa; Part IV. The New Agenda: Globalisation and Global Governance: 22. The United Nations Ian Hurd; 23. Non
-state actors: multinational corporations and international non
-governmental organisations James Goodman; 24. Religion and secularisation Elizabeth Shakman Hurd; 25. Global economic institutions Marc Williams; 26. Global trade and finance Maryanne Kelton and Leonard Seabrooke; 27. Global poverty and inequality Heloise Weber and Mark T. Berger; 28. Globalisation and its critics Steven Slaughter; 29. Terrorism Audrey Kurth Cronin; 30. Post
-conflict state
-building Beth Greener; 31. Humanitarianism and armed intervention Thomas G. Weiss; 32. Human rights Anthony Langlois; 33. Migration and refugees Sara E. Davies; 34. Global environmental politics Robyn Eckersley; 35. Climate change Peter Newell.